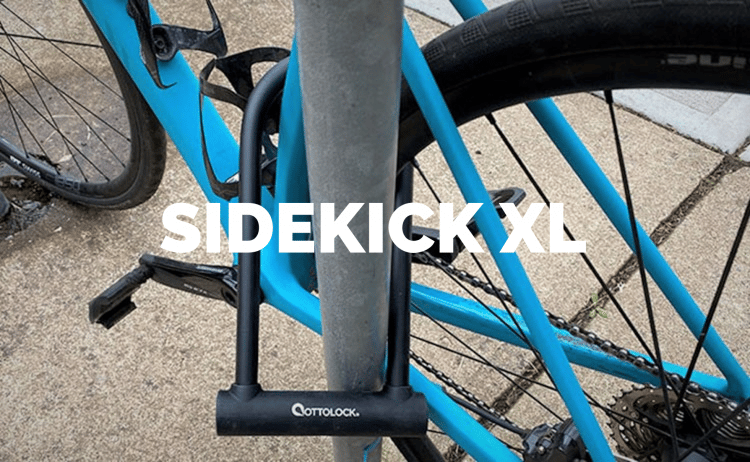 The SIDEKICK XL U-lock is designed to prevent bike theft, either when used alone or for added security in conjunction with an OTTOLOCK Cinch Lock or Hexband Cinch Lock Bike Locks.
SIDEKICK differs from other U-locks in its compact, silicone-coated design and lightweight size, making it easy to stow in a backpack. SIDEKICK weighs only 750 grams!
The small size of the Sidekick helps to lock the bike tighter. This makes it more difficult for thieves to damage the lock. The compact size and light weight also make it easy to transport the U-lock while riding.
The complete silicone sheathing of the entire lock body also on the bracket ensures that the frame of the Fahhrades is protected from scratches.
LIGHT: Sidekick weighs only 1.3 KG. Feel free to compare the weight with other U-locks.
COMPACT: Sidekick fits easily into many bags or packs. The opening size is 10 cm x 24 cm.
PROTECTION FROM SCRATCHES: The silicone-coated U-lock is available in two colors: black or orange. Due to the complete silicone coating (including the temple), your frame will be protected from scratches.
ROBUST: SIDEKICK is made of 12mm hardened steel with anti-rotation deadbolt, it is classified as medium security shackle lock.
KEYS: Two keys included.
OTTOLOCK Sidekick XL Bike Locks - U-lock
Double shackle, 12mm hardened steel with anti-rotation latch
medium Tip for extra security: Use Sidekick together with OTTOLOCK Cinch Lock or Hexband Cinch Lock Bike Locks.